WINNER OF THE 2016 CONCRETE SURFACES POLISHING AWARD FOR THE BEST EDUCATIONAL PROJECT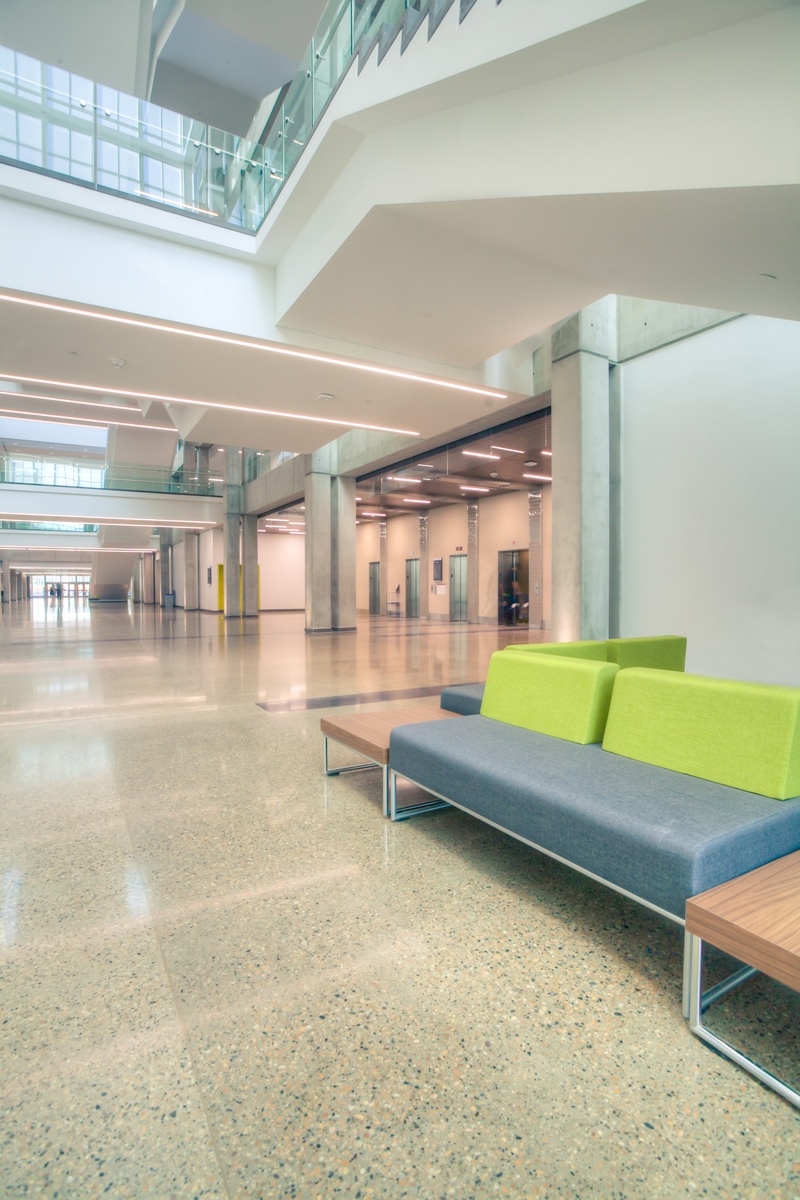 Desco is proud to announce that we are the 2016 Concrete Surfaces Polishing Award recipient for the best educational concrete polishing project for our work at the Northern Alberta Institute of Technology Centre for Applied Technology, NAIT CAT, in Edmonton, Alberta. This award marks the third year in a row where Desco has been recognized for our achievements in concrete polishing after winning in the best commercial project category in both 2015 and 2014. Desco is the only award recipient in Canada.
The NAIT CAT is developed as a centre of excellence for simulated learning, which allows students to experience real-world situations without leaving the classroom or lab. In simulation labs, students receive hands-on training in a controlled, safe and cost-effective learning environment that integrates leading technology, equipment, and business processes. The flagship facility is designed to a LEED Silver certification and features a high quality of finishes and architectural details. One of the sustainable features selected was polished concrete flooring throughout the high traffic areas.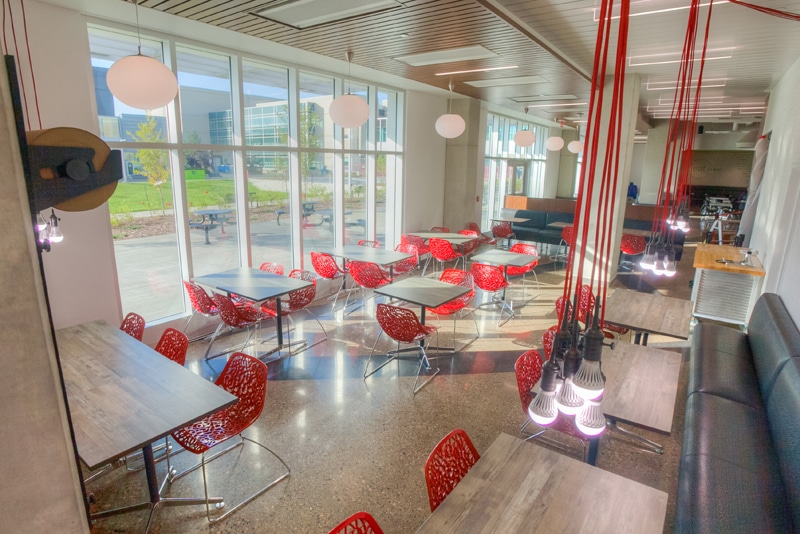 The concrete floors are equipped with radiant heating in floating concrete slabs on top of a structural concrete slab. Large mock-ups of the floor assemblies were constructed on-site using various mix designs and finished to different depths and finishes to ensure client satisfaction. All of the mock-ups were cast in place on top of the structural concrete slabs before being removed so the final flooring could be installed. The floating slabs were ground to expose mainly large aggregate and polished to high gloss sheen. Due to radiant heating lines installed in the floating concrete slab, there were a significant amount of control joints and expansion joints to accommodate for the changing temperatures in the concrete. After multiple mock-ups and colour samples, VersaFlex SL 75 was used to fill the control joints full depth and VersaFlex SL 60 was used to fill the expansion joints. The colour for both of the VersaFlex products was matched to the concrete colour to provide a complementary subtle colour blend of all joints. Decorative concrete dye was used throughout, including a design in the cafeteria that mirrored other architectural details of angular intersecting lines. The central walkway of the project featured dyed patterns to mirror the rectilinear column design.
The products used were a 98% solids proprietary urethane structural tinted grout to fill all surface voids and cracks, Pentra-Sil (HD) as a densifier, Ameripolish Surelock Dye in coloured designs, and Pentra-Finish (HG) as a stain resistant sealer. The grout itself was colour matched to the floor and applied to limit streaking or colour variation.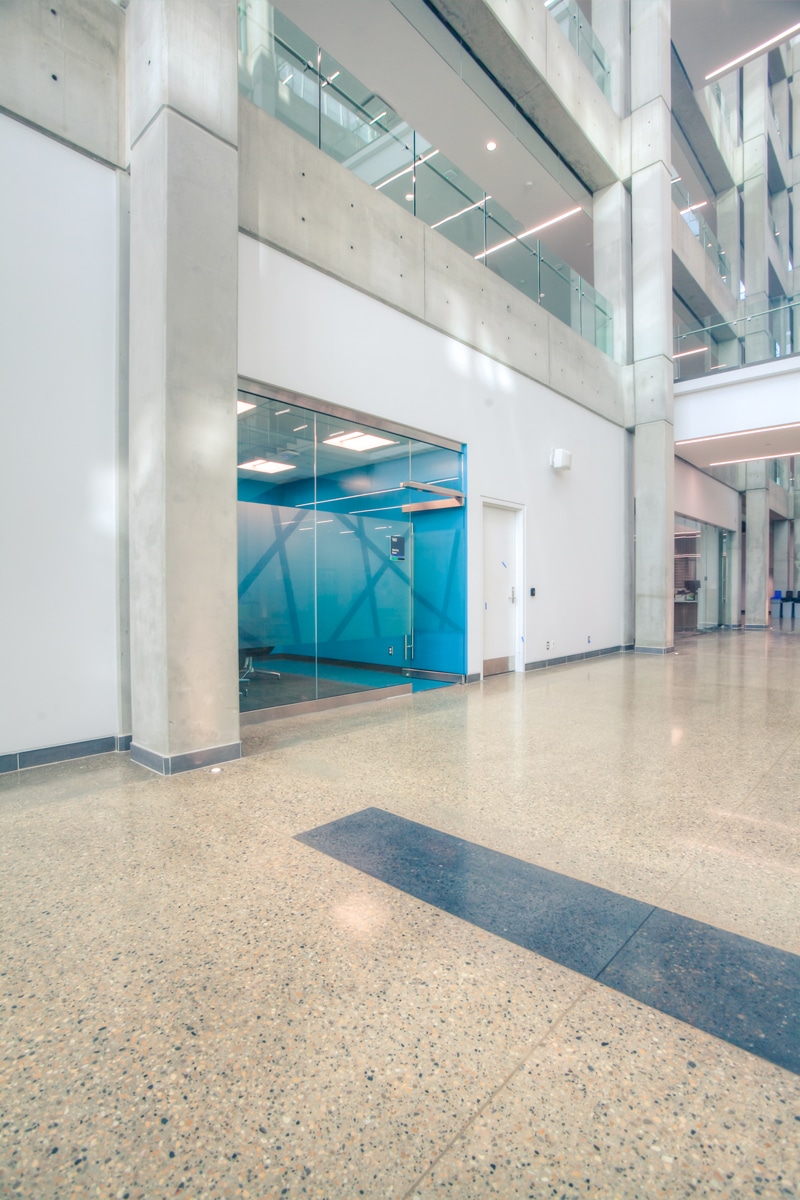 The structural columns were constructed in parallel with a small space between them. This small space was also polished to match the adjacent floor as a design detail. Polishing the small space proved to be challenging since the tooling was only slightly smaller than the gap. Great care was taken to ensure that the exposed concrete columns were not damaged as a part of this process.
For one of the stairwells, a set of high-traction strips were installed at the top. These high traction strips were cut by hand after the polishing process was completed and filled with black oxide and a 100% solids polyaspartic resin.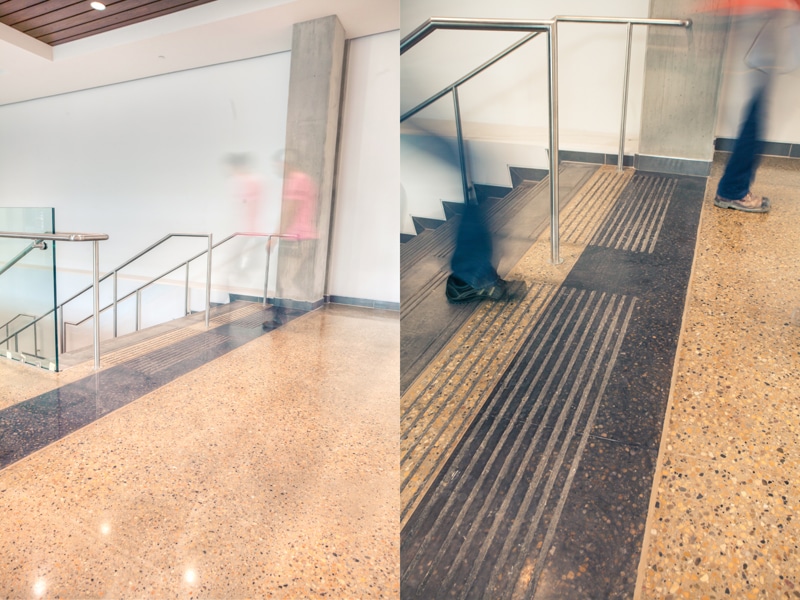 Concrete Construction magazine is a trade specific magazine for the residential and commercial design and construction industry. This is the sixth year the magazine has hosted the competition for the best in concrete polishing around the world. Candidates for this year's competition came from a wide variety of places, including Australia, Canada, and across the United States.
PROJECT DETAILS
Project Location: Edmonton, Alberta, Canada
Flooring Contractor: Desco Coatings of Alberta Ltd.
Architect/designer: Stantec Architecture
General contractor: Clark Builders
Amount of polished concrete: 37,500 ft²
Size of building/project: 555,000 ft²
If you would like to find out more about concrete polishing or if you would like to contact us with regards to a commercial concrete polishing project, please follow the links below.